Berkeley Tie-Dye is a fascinating tomato with red and yellow stripes on a green background. The tri-color flesh is a combination of sweet, spicy and tart with a different flavor for each color. The production is just average, but it's well worth growing for the experience. Introduced by Brad Gates of Wild Boar Farms. He discovered it in a patch of Beauty King tomatoes.

Tomato 'Violet Jasper'

(72 days)

25 seeds   $3.00    

Violet Jasper is so pretty! It's a good seller at the farmers market. People can't resist the cherry-size, purple fruits with green streaks. The small fruits weigh

1-2 ounces. The flavor is rich and tangy-sweet, but the skin is a bit tough. That's what keeps the fruits from cracking, so they stay looking nice. Very productive. It comes from China, where it is called Tzi Bi U.

Heirloom Tomato Seeds - Striped & Unusual Colors

This category includes bicolor and striped tomatoes, along with some of the new anthocyanin tomatoes.

Sowing Tomato Seeds

Start tomato seeds indoors 6-8 weeks before the last frost date. Sow 1/8" deep. Transplant outside 2 weeks after the last frost date. Full sun. Spacing 30-36".

Tomato 'Orange & Green Zebra'

(75 days)

25 seeds   $3.00             

Orange & Green Zebra is almost identical to Green Zebra, except that the fruits develop an orange tint between the green stripes. The interior is a beautiful, lime-green color. Highly productive with a zingy flavor. Larger than a cherry tomato, but smaller than the average salad tomato. It was first introduced in the 2007 SSE Yearbook by Ake Truedsson of Klagshamn, Sweden.

Tomato 'Chocolate Stripes'

(80 days)

25 seeds   $3.00          

Chocolate Stripes is a beautiful, mahogany-red tomato with olive-green stripes. The fruits weigh 4-6 ounces. The flavor is rich, sweet and earthy (but not muddy). It's one of the tastiest striped tomatoes we have tried - infinitely better than the old Black Zebra. Bred by Al Anderson of Troy, Ohio from a cross of Schimmeig Creg and a pink Amish tomato.

Pink Furry Boar is an intriguing tomato from Brad Gates. This medium-size tomato is all about softness. The pink and cream striped skin has a soft, slightly fuzzy texture. The flesh is soft and juicy. The flavor is lightly tangy. It is very productive, starting to ripen in the early midseason. The fruits weigh 3-4 ounces and have flattened sides.

Zebra Rita was developed by Tom Wagner, the breeder who introduced the highly popular Green Zebra. The medium-size fruits are light green with darker green stripes. The flavor is sweeter than Green Zebra with just a touch of zing. Moderate productivity. Tom Wagner named this tomato in honor of Rita Declercq, the person he stayed with when he visited Belgium and France.

Tomato 'Pink Furry Boar'

(78 days)

25 seeds   $3.00          

Tomato 'Zebra Rita'

(80 days)

25 seeds   $3.00                 

Orange Fleshed Purple Smudge has medium-size fruits that are tangerine-orange with purple speckles and blotches on the top half. The purple coloring is the result of anthocyanin pigment in the skin. Weighs 4-10 ounces. The flavor is sweet and mild. I thought the texture was a bit mushy, but that's my only complaint. A rare variety.

Tomato 'Orange Fleshed Purple Smudge' (85 days)

25 seeds   $3.00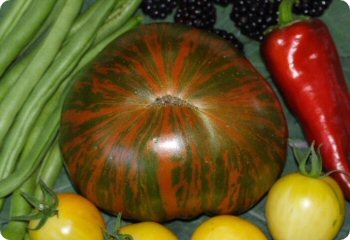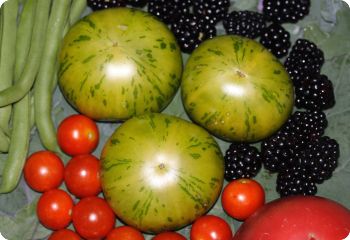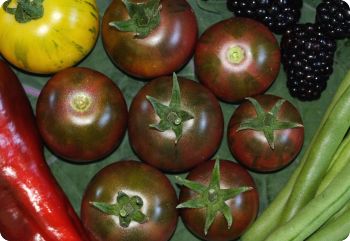 Tomato 'Green Zebra'

(75 days)

25 seeds   $3.00                   

Green Zebra is probably the best-known striped tomato. The 3-oz. fruits are chartreuse with lime-green stripes. The bright green flesh is sweet and tangy with a unique flavor that is valued by classy chefs. You can tell it's ripe when the stripes turn yellow and the fruit is slightly soft but not mushy. Very productive. Bred by Tom Wagner of Everett, Washington.

Tomato 'Berkeley Tie-Dye'

(78 days)

25 seeds   $3.00