Yellow Pear tomato has 1.5" long, pear-shaped fruits with a sweet and mild flavor. This is a favorite variety for children. My adult daughter still reminisces about the Yellow Pear tomatoes from her childhood.

Yellow Pear is a popular heirloom variety. It is very productive.

Heirloom Tomato Seeds - Orange & Yellow

Orange and yellow tomatoes are known for their sweet and fruity flavors. They are also high in antioxidants.

Sowing Tomato Seeds

Start tomato seeds indoors 6-8 weeks before the last frost date. Sow 1/8" deep. Transplant outside 2 weeks after the last frost date. Full sun. Spacing 30-36".

Tomato 'Ildi' (Yellow Grape)

(68 days)

25 seeds   $3.00          

Ildi tomato produces loads of adorable little fruits that are bright yellow and oval-shaped. They have a pleasant, light flavor.

Ildi is fairly early and very productive. Also known as Yellow Grape. Kids love these tasty treats. They are way better than grocery store tomatoes!

Tomato 'Kellogg's Breakfast'

(82 days)

25 seeds   $3.00           

Kellogg's Breakfast is one of the best orange tomatoes we have ever grown. These large beefsteaks weigh up to 16 ounces. They have a fruity flavor, and the flesh is solid, meaty and juicy.

This is an old family heirloom from Darrell Kellogg of Redford, Michigan.

Piedmont Pear has pretty, pear-shaped, golden-yellow fruits that are marbled with red. The texture is smooth, and the flavor is light and sweet with tangy seed gell. It weighs 2-4 ounces. Try it sliced lengthwise in salads. This rare variety was first listed in the 2007 SSE Yearbook by Bill Minkey of Darien, Wisconsin, who got his seeds from Brad Gates of Wild Boar Farms.

More productive than a colony of rabbits. Able to leap tall tomato cages in a single season! It's Super Snow White!!

This large cherry tomato has a mild, low-acid flavor. The pearly, pale yellow fruits are crack-resistant. Cut them in half for salads. Bred by Joe Bratka.

Tomato 'Piedmont Pear'

(80 days)

25 seeds   $3.00                 

Tomato 'Super Snow White'

(75 days)

25 seeds   $3.00            

Dr. Wyche's Yellow tomato has huge, golden-orange fruits. They have a sweet flavor, which is described by some as "tropical".

Dr Wyche's Yellow is not overly productive, but the fruits are very large, weighing up to 20 ounces. A famous heirloom.

Tomato 'Dr. Wyche's Yellow'

(80 days)

25 seeds   $3.00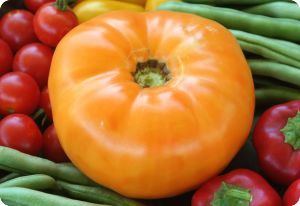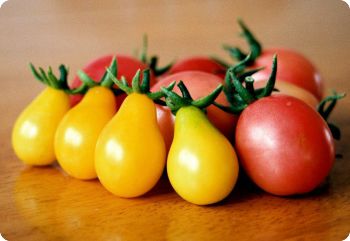 Tomato 'Yellow Pear'

(78 days)

25 seeds   $3.00