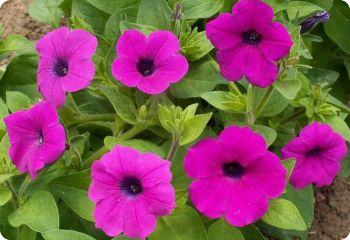 Petunia integrifolia

(Wild Petunia)

1,000 seeds   $2.25                  

Petunia integrifolia

Petunia integrifolia is the wild species from which the modern petunias have descended. The trailing plants have 2" wide, rosy-purple flowers.

Wild Petunia is lovely at the edge of a garden path, tumbling over rocks, or growing in
containers
. The plants grow to about 10" tall and 18" wide. The vivid, trumpet-shaped flowers attract
hummingbirds
.
Petunia integrifolia is a tender perennial in zones 9-11. In cooler zones, it's grown as an annual. It blooms quickly from seed, and it may self sow in warm spots where it's happy. Also known as Petunia violacea.

Sowing Petunia integrifolia Seeds

Start seeds indoors 6-8 weeks before the last frost date. Sow on the surface. Full sun. Well-drained soil. Spacing 12".