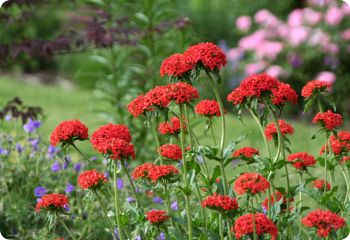 Lychnis chalcedonica

(Maltese Cross)

400 seeds   $2.25        

Lychnis chalcedonica

Lychnis chalcedonica blooms in June with large clusters of vivid, scarlet-red flowers. The flowers seem to glow in the garden like a neon restaurant sign that says, "
Hummingbirds
, eat here!"
Lychnis chalcedonica can be cut back when the flowers fade to encourage repeat blooming. Deer resistant. Hardy perennial in zones 4-10.

height 3-4'

Sowing Lychnis chalcedonica Seeds

Start seeds indoors
8 weeks before the last frost date. Barely cover with soil. Full sun to part shade. Spacing 15".