Lavandula angustifolia 'Munstead'
is a compact, early-blooming variety with lavender-blue flowers and silvery blue-green foliage. The flowers and foliage are very fragrant, and the plants have a naturally rounded habit.
Munstead lavender makes a wonderful cut or dried flower. The flowers attract
butterflies
and
beneficial insects
. The compact plants make a fine hedge when spaced 15" apart. It can even be grown in containers.
Lavender 'Munstead' is a popular
heirloom
variety developed by the famous British gardener, Gertrude Jekyll, and named for her home, Munstead Wood. It was introduced during World War I.
height 15"  spacing 18"

Lavandula angustifolia Seeds

Lavandula angustifolia is a shrubby, evergreen perennial that blooms in midsummer. The flowers and foliage are highly fragrant. Hardy in zones 5-9.

Sowing English Lavender Seeds

Start lavender seeds indoors in late winter. Barely cover the seeds with soil, then
refrigerate
for 3 weeks. Full sun. Well-drained soil.
Lavandula angustifolia 'Munstead' (English Lavender)

115 seeds   $2.50

photo by Emmis Oure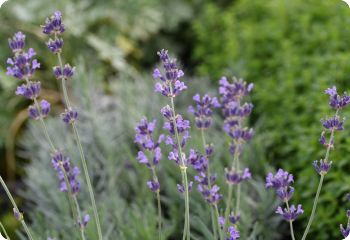 Lavandula angustifolia 'Vera'

(English Lavender)

350 seeds   $2.25                                  

Lavender 'Vera' is great for
cutting
or potpourri. It's considered to be the best variety for culinary, cosmetic, medicinal and aromatherapy uses.
Lavandula angustifolia is
drought tolerant
, and it thrives in poor, well-drained soil. Space plants at least 24" apart, unless you are growing a hedge, in which case the plants should be spaced 18" apart. Prune it back in late summer after the flowers fade.
Deer resistant
. Hardy in zones 5-10.
height 20"  spacing 24"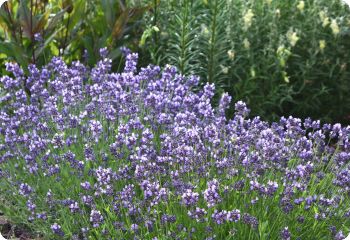 Lavender 'Lady' can be grown as a short hedge by spacing the plants 10" apart. It's also nice in
containers
or in the
rock garden
. This outstanding perennial was an All-America Selections winner in 1994.
height 16"  spacing 15"

Lavandula angustifolia 'Lady'

(English Lavender)

50 seeds   $2.50