Coreopsis basalis
is a wonderful annual with bright yellow, daisy-like flowers accented with maroon centers. The lightly fragrant flowers attract
butterflies
.
Coreopsis basalis is native to the southern United States. Like other coreopsis species, it enjoys full sun and well-drained soil. It self sows moderately in my zone 5 garden.
Deer resistant
.
height 15"

Coreopsis Seeds

Coreopsis is a North American wildflower. It blooms from summer to fall in shades of yellow, gold and mahogany-red. Easy to grow from seed.

Sowing Coreopsis Seeds

Sow coreopsis seeds outdoors after the last frost date. Or start indoors 6 weeks early. Barely cover the seeds with soil. Full sun. Spacing 12".

Coreopsis tinctoria
is a native wildflower with small, daisy-like flowers on delicate stems. They are golden-yellow with mahogany-red centers.
Coreopsis tinctoria is a
self-sowing
filler in the wildflower garden or border. It's easy to grow, and it blends nicely with many other flowers. It's shown here with Linaria maroccana. 
height 24"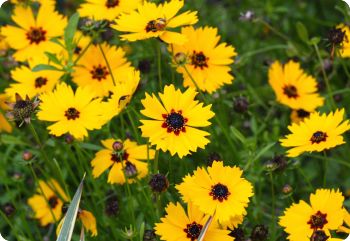 Coreopsis basalis

(Golden Wave)

750 seeds   $3.00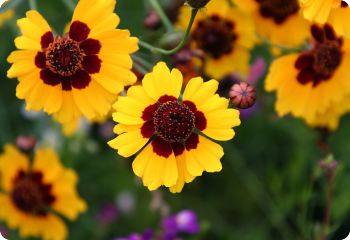 Coreopsis tinctoria

(Plains Coreopsis)

1,000 seeds   $3.00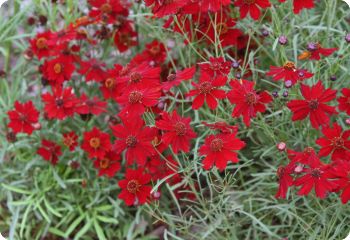 Coreopsis tinctoria 'Dwarf Red'

(Plains Coreopsis)

1,000 seeds   $3.00