Heirloom Carrot Seeds

Carrots are highly popular vegetables that need no introduction. The plants are biennial. To save seeds, leave the roots in the ground over winter.

Sowing Carrot Seeds

Sow carrot seeds outdoors 3-6 weeks before the last frost date. Sow on the surface, and cover lightly with soil. Keep moist. Thin to 3" apart. Full sun.

Carrot 'Scarlet Nantes'

(70 days)

2,000 seeds   $3.00                     

Scarlet Nantes is famous for its sweet flavor. The bright orange, cylindrical roots are about 7" long with blunt tips. Great for fresh eating, juicing or freezing. It can be harvested early for baby carrots. Also known as Early Coreless.

French heirloom, 1850's.

Red Cored Chantenay is a hefty carrot that doesn't break off too easily when digging. The 6" roots are tapered and blunt with a red-orange core. High in antioxidants with a rich flavor. Great fresh, canned or frozen.

American heirloom, 1929.

Carrot 'Red Cored Chantenay'

(70 days)

2,000 seeds   $3.00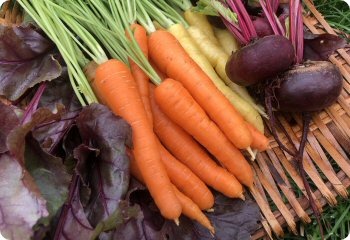 Black Nebula is a dark purple carrot with high levels of anthocyanins and vitamin C. It's great for fresh eating, juicing and cooking. This amazing carrot was improved from a strain found at a market in northern India.

Indian heirloom.

Carrot 'Black Nebula'

(75 days)

300 seeds   $3.25