Amaranth 'Love Lies Bleeding'

(Amaranthus caudatus)

2400 seeds   $2.75

photo by Kathy Rinke  

Amaranth 'Love Lies Bleeding'
is an unusual heirloom plant with long, drooping strands of burgundy-red flowers in late summer. Also called tassel flower.
Love Lies Bleeding amaranth gives the garden a touch of the exotic or the old-fashioned, depending on what it's combined with. It also makes an interesting container plant or
cut flower
.
height 4'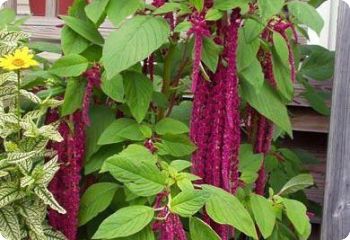 Amaranth Seeds

Amaranth is a tall annual plant with large panicles of tiny flowers. In the fall, it produces edible seeds. Easy to grow.

Sowing Amaranth Seeds

Sow amaranth seeds outdoors close to the last frost date. Or start indoors 4 weeks early. Barely cover with soil. Thin to 15" apart. Full sun.

Amaranth 'Molten Fire'

(Amaranthus tricolor)

400 seeds   $2.75     

Amaranth 'Molten Fire'
is a stunning selection with crimson-maroon, bicolor foliage. It is both beautiful and nutritious with edible young leaves.
Molten Fire amaranth is relatively short, which helps it to fit into most gardens. It looks particularly nice in mass plantings or as a hedge. Also known as Summer Poinsettia, Amaranth 'Early Splendor' and Amaranthus gangeticus.

Amaranth 'Pygmy Torch'

(Amaranthus hypochondriacus)

500 seeds   $2.75       

Amaranth 'Pygmy Torch'
is a dwarf variety with erect spikes of crimson-burgundy flowers. The bicolor green and burgundy leaves are attractive in salads. The edible seeds are black and brown.
Pygmy Torch amaranth is very short and compact, making it a good choice for
containers
and small gardens. It's nice for cutting.
height 2-3'