Hollyhock 'Indian Spring' is an All-America Selections winner. It may bloom the
first year
from seed if started early indoors.
height 5-6'  spacing 24"

Hollyhock Seeds

Hollyhock is a hardy biennial with large, single or double flowers that bloom on tall stems in early summer. Hardy in zones 3-9.

Sowing Hollyhock Seeds

Start hollyhock seeds indoors 6-8 weeks before the last frost date. Or sow outdoors in early spring or fall. Sow 1/4" deep. Full sun.

Hollyhock 'Summer Carnival'
is a fast bloomer with flowers appearing just 4 months after sowing. It has 4" wide, semi-double to double flowers in shades of pink, red, rose and yellow.
Hollyhock is a
host plant
for Painted Lady and Tropical Checkered-Skipper butterflies. Summer Carnival is an All-America Selections winner.
height 5-6'  spacing 24"

Hollyhocks are the quintessential
cottage garden
flower. They used to be grown on the sides of outhouses to brighten them up. If you don't have an outhouse, try them against a fence or a shed.
height 5-7'  spacing 24"

Alcea rosea 'Summer Carnival'

(Hollyhock)

50 seeds   $2.75                                 

Alcea ficifolia 'Happy Lights'

(Fig-Leaf Hollyhock)

40 seeds   $3.00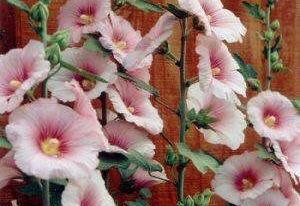 Alcea rosea 'Indian Spring'

(Hollyhock)

50 seeds   $2.75