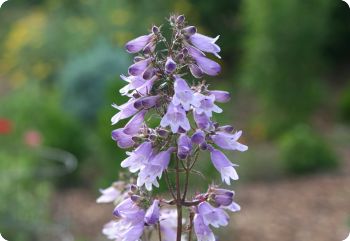 Penstemon calycosus

(Calico Beardtongue)

800 seeds   $2.25 

Penstemon calycosus

Penstemon calycosus is a beautiful species with light purple flowers in early summer. It is native to the eastern United States.

Like
Penstemon digitalis
, Penstemon calycosus tolerates part
shade
and more moisture than other penstemon species. It self sows nicely.
Also known as Calico Beardtongue, Long-Sepaled Penstemon or Smooth Beardtongue. Hardy perennial in zones 3-9. 

height 24"                           

Sowing Penstemon calycosus Seeds

Start seeds indoors in late winter. Sow on the surface, then
refrigerate
for
8 weeks. Full sun. Spacing 12".

Copyright (c) Diane's Flower Seeds. All rights reserved.