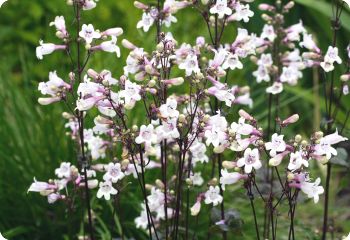 Penstemon 'Husker Red'

(Foxglove Beardtongue)

250 seeds   $2.75              

Penstemon digitalis 'Husker Red'

Penstemon 'Husker Red' has bronze-red foliage and airy spikes of pale pink flowers in June. The new spring foliage looks great with
daffoldils
and tulips. In the fall, it turns a warmer shade of red.
Penstemon digitalis 'Husker Red' was named Perennial Plant of the Year in 1996. It tolerates more moisture than most penstemon species. It prefers slightly moist, well-drained soil in full sun to part
shade
.
Also known as Foxglove Penstemon. Hardy perennial in zones 3-9.

height 30"                           

Sowing Penstemon 'Husker Red' Seeds

Start seeds indoors in late winter. Barely cover with soil, then
refrigerate
for
4 weeks. Full sun. Spacing 12".

Copyright (c) Diane's Flower Seeds. All rights reserved.