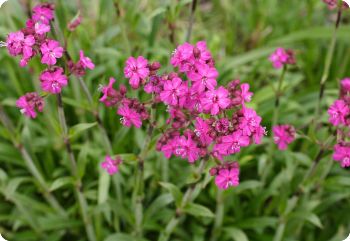 Lychnis viscaria

'Feuer'

1 pkt = 1,000 seeds              

$3.00       

German Catchfly blooms in late spring with clusters of brilliant, reddish-pink flowers. The grass-like foliage makes a neat clump.

Lychnis 'Feuer' is nice at the front of the border or in the rock garden. Give it afternoon shade in hot climates. It is lovely combined with
columbine
,
iberis
or
dracocephalum
. The name 'Feuer' means 'Fire' in German. Hardy in zones 3-8.
height 18"