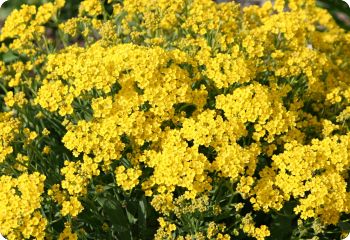 Alyssum 'Basket of Gold'

(Alyssum saxatile)

275 seeds   $2.25    

out of stock                

Alyssum saxatile 'Basket of Gold'

Alyssum saxatile is a spring-blooming perennial with gray-green leaves and bright yellow flowers. It's s an important plant for attracting
butterflies
and
beneficial insects
early in the season before most other flowers bloom.
Alyssum saxatile typically lives for several years before the plants get old and woody. It self sows, but not invasively. It's a good groundcover for a small area.

Also known as Gold Dust and Aurinia saxatilis. Deer resistant. Hardy perennial in zones 3-9.

height 10"

width 15"

Sowing Alyssum saxatile Seeds

Start seeds indoors 6-8 weeks before the last frost date. Or sow outdoors in late spring. Barely cover with soil. Full sun. Spacing 15".

Copyright (c) Diane's Flower Seeds. All rights reserved.