Mortgage Lifter is a famous heirloom tomato with large, pink fruits that weigh one pound or more. The flesh is solid and meaty with few seeds. The flavor is excellent. It performs best in the south.

American heirloom.

Heirloom Tomato Seeds - Pink & Red

Pink and red tomatoes are the most popular varieties we sell. They have the classic tomato flavor that people love, and they are high in lycopene.

Sowing Tomato Seeds

Start tomato seeds indoors 6-8 weeks before the last frost date. Sow 1/8" deep. Transplant outside 2 weeks after the last frost date. Full sun. Spacing 30-36".

Tomato 'Amish Paste'

(85 days)

25 seeds   $3.00                

Amish Paste is a wonderful tomato for sauce and canning. The plum to oxheart shaped fruits weigh 8-12 ounces. They are meaty and juicy. Great for fresh eating, too. A customer favorite.

Amish heirloom.

Tomato 'Brandywine' (Sudduth's)

(85 days)

25 seeds   $3.00           

Brandywine, Sudduth's Strain is considered by many to be the best-tasting pink beefsteak tomato in circulation. The sweet and complex flavor is unforgettable. The large fruits can weigh up to 2 pounds.

American family heirloom, 1900.

Abe Lincoln is a popular heirloom tomato with scarlet-red, medium-size fruits that weigh about 8 ounces. It has a classic, tangy tomato flavor. The productivity is good. It was originally introduced in 1923 by the W. H. Buckbee seed company of Rockford, Illinois. Also known as Abraham Lincoln. It's a standard variety for gardeners looking for a "good old-fashioned" red tomato.

Thessaloniki is a large, red tomato with robust flavor. It is very productive, making it one of our favorite canning varieties. Fruits weigh about 5 ounces.

This open-pollinated tomato was bred in Greece in 1957 by the Ministry of Agriculture Experimental Farm.

Tomato 'Abe Lincoln'

(80 days)

25 seeds   $3.00           

Tomato 'Thessaloniki'

(80 days)

25 seeds   $3.00                    

Pink Pioneer is our own introduction. It's a large, pink beefsteak with a delicious, well-balanced flavor. Three out of five people in our family prefer it over Brandywine. This beautiful tomato is crack-resistant and productive. The fruits often weigh one pound or more. Potato-leaf foliage. Utah heirloom. See this page for the history of
Tomato 'Pink Pioneer'
.
Tomato 'Pink Pioneer'

(80 days)

25 seeds   $3.00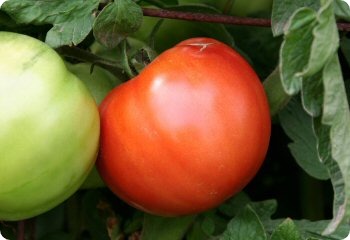 Tomato 'Mortgage Lifter'

(82 days)

25 seeds   $3.00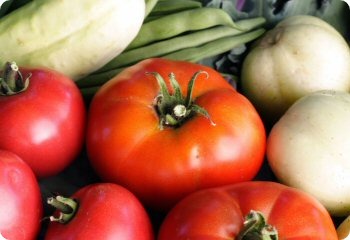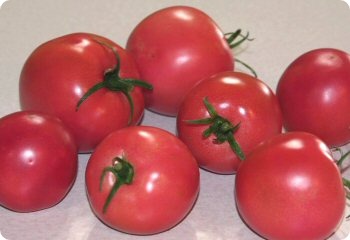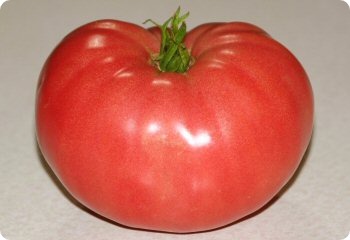 Purple Dog Creek tomato is a large, pink beefsteak with a complex, sweet and tangy flavor. Unfortunately, it is very late in my zone 5 garden. Southern gardeners should have better luck.

Heirloom from the community of Dog Creek near Munfordville, Kentucky.

Stupice is our favorite early tomato. The compact plants produce clusters of small, bright red, round fruits that weigh about 2 ounces. They have a nice, tangy flavor. It's a great choice for northern gardens.

Czechoslovakian heirloom.

Tomato 'Purple Dog Creek'

(85 days)

25 seeds   $3.00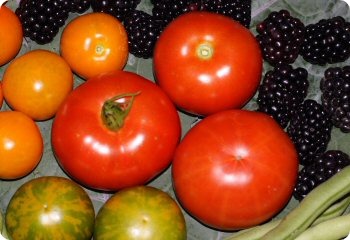 Tomato 'Stupice'

(60 days)

25 seeds   $3.00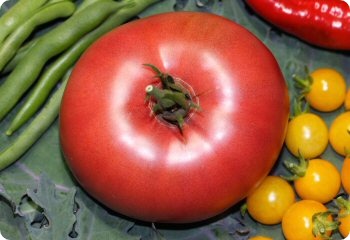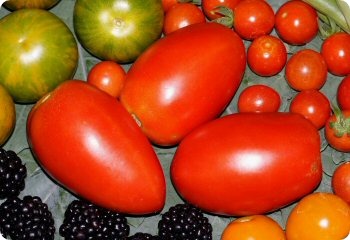 Anna Russian is an oxheart tomato that weighs 8-16 ounces. It has a juicy, old-fashioned tomato flavor. The seeds were originally obtained from a Russian immigrant and introduced to the U.S. through the SSE Yearbook in 1989. 

Russian heirloom.

Tomato 'Anna Russian'

(80 days)

25 seeds   $3.00            

Eva Purple Ball has round, 5 ounce fruits with purple-pink skin and red flesh. Highly productive and disease resistant. It was brought to New Jersey in the late 1800's by immigrants from the Black Forest region of Germany.

German heirloom.

Tomato 'Eva Purple Ball'

(78 days)

25 seeds   $3.00

out of stock