Nicotiana alata
is the perfect flower to enjoy during an evening stroll through the garden. It blooms from midsummer until the first frost with large, pure white, trumpet-shaped flowers.
Jasmine Tobacco is a highly
fragrant
heirloom flower. The perfume is most noticeable on warm summer evenings. Also known as Flowering Tobacco.
height 36"  spacing 12"

Nicotiana (Flowering Tobacco) Seeds

Nicotiana is a tender perennial (zones 10-11) that is grown as an annual in cooler zones. It blooms from midsummer until the first frost.

Sowing Nicotiana Seeds

Start nicotiana seeds
indoors
6-8 weeks before the last frost date. Sow on the surface. Full sun to part shade.
Nicotiana 'Sensation Mix'
blooms in a wide range of colors, including pink, rose, crimson, lavender, purple and white. The flowers have a sweet fragrance in the evening, and they attract
hummingbirds
.
The flowers are famous for staying open during the day, unlike older varieties of flowering tobacco. They look stunning paired with
cleome
. Deer resistant.
height 24-36"  spacing 12"

Nicotiana sylvestris
is a tall species of flowering tobacco with very long, trumpet-shaped, pure white flowers that bloom from July to September. The large, bright green leaves are also impressive.
Woodland Tobacco is a stately plant for the back of the border. It also makes an elegant focal point in a large bed of annuals.
Shade tolerant
.
height 4-5'  spacing 18"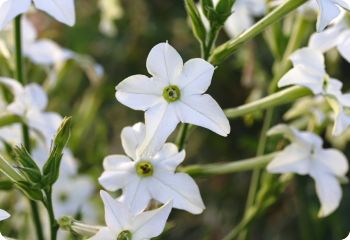 Nicotiana alata

(Jasmine Tobacco)

650 seeds   $3.00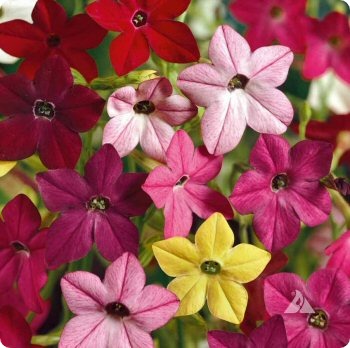 Nicotiana 'Sensation Mixed'

(Nicotiana x sanderae)

1500 seeds   $3.00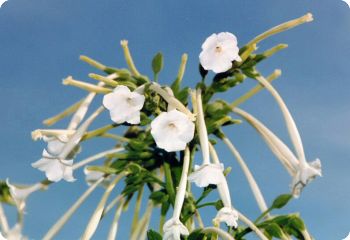 Nicotiana sylvestris

(Woodland Tobacco)

2,000 seeds   $3.00