Marigold 'Crackerjack Mix' blooms from summer to fall. It loves the heat, and it's easy to grow and
drought tolerant
. The showy flowers attract butterflies and beneficial insects. The edible flower petals make a colorful garnish.
height 30"  spacing 12"

Marigold Seeds

Marigold is a popular bedding annual. It blooms from summer to fall in shades of yellow, gold and orange. Easy to grow from seed.

Sowing Marigold Seeds

Sow marigold seeds outdoors after the last frost date, 1/8" deep. Or start indoors 4-6 weeks early. Full sun.

Marigold 'Petite Mix'
is a dwarf variety with double flowers in cheerful shades of yellow, gold, orange and red.
French marigolds repel root nematodes in the vegetable garden. The edible flower petals can be enjoyed in salads and teas. The flowers bloom all summer long with regular deadheading. Perfect for
containers
!
height 8"  spacing 8"

Marigold 'Crackerjack Mixed'

(Tagetes erecta)

150 seeds   $2.00  

Image courtesy Thompson & Morgan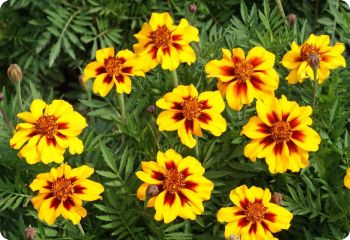 Marigold 'Naughty Marietta'

(Tagetes patula)

150 seeds   $2.00              

This dwarf marigold is great in containers or at the edge of the border. The colorful flowers attract
butterflies
and
beneficial insects
, making it a good choice for the vegetable garden. Easy to grow.
Deer resistant
.
height 8"  spacing 8"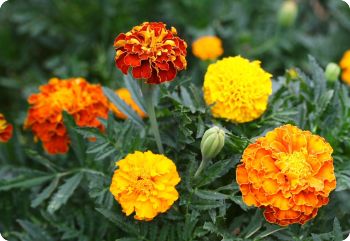 Marigold 'Petite Mix'

(Tagetes patula)

150 seeds   $2.00