Liatris spicata 'Kobold'

(Dense Blazing Star)

30 seeds   $3.00

Liatris 'Kobold' looks stunning near the front of the border. Also known as Goblin Gayfeather. Hardy in zones 3-10. 

height 22"

Liatris (Blazing Star) Seeds

Liatris, also known as Blazing Star or Gayfeather, is a perennial wildflower with tall spikes of purple flowers in late summer to fall.

Sowing Liatris Seeds

Start liatris seeds indoors in winter. Barely the seeds cover with soil, then
refrigerate
for 8 weeks. Full sun to part shade. Spacing 15".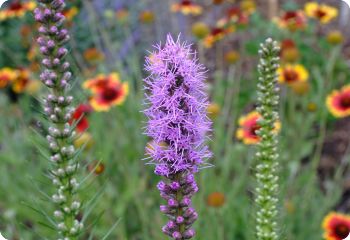 Liatris spicata

(Dense Blazing Star)

100 seeds   $3.00           

Liatris spicata
is a native prairie wildflower. The tall spikes of purple flowers attract hummingbirds and butterflies, and the ripening seeds attract birds. It's a host plant for Painted Lady and Silvery Checkerspot butterfly larvae.
Liatris spicata is adaptable to a wide range of climates and conditions. Hardy in zones 3-10. Shown here with
Gaillardia 'Bremen'
.
height 36"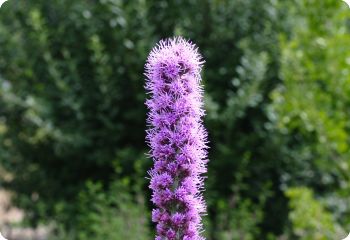 Liatris pycnostachya

(Prairie Blazing Star)

100 seeds   $3.00

Liatris pycnostachya
has very tall, dense spikes of purple flowers that attract hummingbirds and butterflies in late summer. It looks like an exclamation point in the middle of the garden. It also makes a terrific
cut flower
.
Liatris pycnostachya is a drought-tolerant, native perennial. It's popular for prairie gardens and restoration projects. Hardy in zones 3-9. 

height 42"

Liatris ligulistylis

(Meadow Blazing Star)

50 seeds   $3.00

Liatris ligulistylis
is wonderful for attracting butterflies, especially Monarchs. Birds feast on the ripening seeds in the fall.
Liatris ligulistylis can grow up to 5 feet tall, so you may need to stake it in the garden, especially if your soil is rich or moist. It is
drought tolerant
and
deer resistant
. Hardy in zones 3-9. 
height 4-5'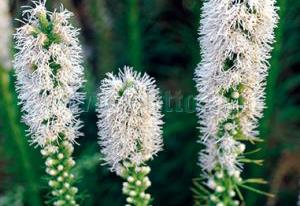 Liatris spicata 'Floristan White'

(Dense Blazing Star)

20 seeds   $3.00