Kale 'Lacinato'

(60 days)

300 seeds   $1.50 Sale!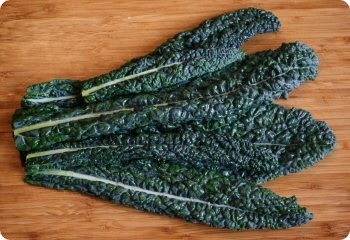 Kale 'Lacinato' is an unusual variety with dark blue-green, crinkled leaves. The long, narrow leaves can grow up to 18" long and 3" wide, but they are best harvested when they are young and tender. Sweetness is enhanced by frost.

Lacinato kale has a robust flavor. Try it steamed, stir-fried, or in soups.

Kale 'Lacinato' is an heirloom variety from Italy. It was grown in the 18th century. Also known as Dinosaur Kale, Tuscan Kale, and Nero di Toscana. Latin name: Brassica oleracea.

height 30"

Sowing Kale 'Lacinato' Seeds

Sow kale seeds outdoors in late spring to summer, 1/4" deep. In the south, sow in the fall for an early spring crop. Thin to 12" apart. Full sun to part shade.