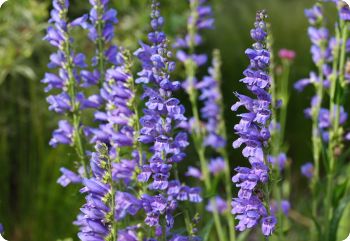 Penstemon strictus

(Rocky Mountain Beardtongue)

200 seeds   $2.25          

Penstemon strictus

Penstemon strictus blooms in June with stunning, violet-blue flowers on tall stems. It looks fabulous with everything in the garden. It makes a lovely
companion plant for roses
. Great for
cutting
.
Penstemon strictus is one of the most popular species. It is relatively easy to grow for a penstemon. It attracts
hummingbirds
and
beneficial insects
, including ladybugs, hoverflies and bees.
Also known as Rocky Mountain Penstemon. Native, drought-tolerant perennial. Hardy in zones 4-9.

height 30"                        

Sowing Penstemon strictus Seeds

Start seeds indoors in late winter. Barely cover with soil, then
refrigerate
for
4 weeks. Full sun. Spacing 12".

Copyright (c) Diane's Flower Seeds. All rights reserved.