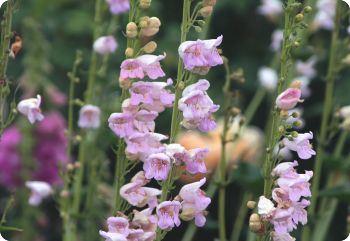 Penstemon palmeri

(Palmer's Beardtongue)

500 seeds   $2.25 

Penstemon palmeri

Penstemon palmeri is one of the showiest penstemons. It blooms from May to July with tall spikes of large, light pink flowers that attract
hummingbirds
and bumblebees. The
fragrant
flowers smell like grapes. Nice for
cutting
.
Penstemon palmeri is heat and
drought tolerant
. It needs full sun and well-drained soil. Native to the Western United States.
Also known as Palmer's Penstemon, Pink Wild Snapdragon, and Scented Penstemon. Deer resistant. Hardy perennial in zones 4-9.

height 3-4'                           

Sowing Penstemon palmeri Seeds

Start seeds indoors in late winter. Barely cover with soil, then
refrigerate
for
6 weeks. Full sun. Spacing 15".

Copyright (c) Diane's Flower Seeds. All rights reserved.