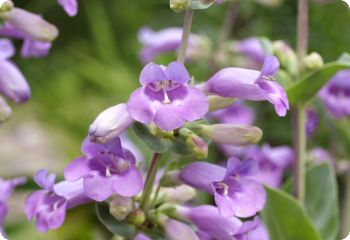 Penstemon grandiflorus

(Shell Leaf Beardtongue)

200 seeds   $2.25                  

Penstemon grandiflorus

Penstemon grandiflorus has large lavender or pink flowers that attract
hummingbirds
. The blue-green leaves are shaped like shells.
Penstemon grandiflorus is one of the hardiest and showiest penstemons. It is relatively easy to grow, tolerating more moisture than most species. Of course, it still needs well-drained soil, and it may require staking in wet weather because the flowering stems are heavy.

Also known as Shell Leaf Beardtongue, Penstemon grandiflora and Large Flowered Penstemon. Native to the Great Plains. Hardy
perennial
in zones 4-9.
height 30"                        

Sowing Penstemon grandiflorus Seeds

Start seeds indoors in late winter. Barely cover with soil, then
refrigerate
for
6 weeks. Full sun. Spacing 12".

Copyright (c) Diane's Flower Seeds. All rights reserved.