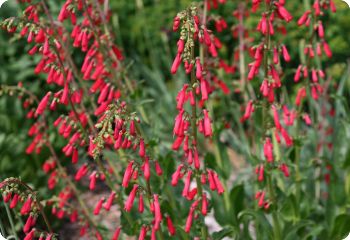 Penstemon eatonii

(Firecracker Beardtongue)

125 seeds   $2.25 

Penstemon eatonii

Penstemon eatonii is a
hummingbird
favorite. The brilliant, scarlet-red flowers bloom in early summer. The ripening seeds provide food for birds.
Penstemon eatonii is
drought-tolerant
. It needs full sun and well-drained soil. Also known as Eaton's Penstemon and Firecracker Penstemon. Deer resistant.
Hardy perennial in zones 4-9.

height 24"                           

Sowing Penstemon eatonii Seeds

Start seeds indoors in late winter. Barely cover with soil, then
refrigerate
for
8 weeks. Full sun. Spacing 12".

Copyright (c) Diane's Flower Seeds. All rights reserved.