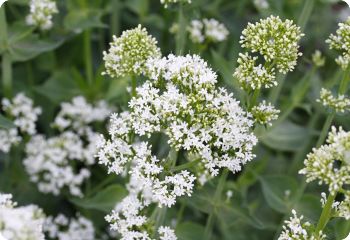 Centranthus ruber 'Alba'

(White Jupiter's Beard)

100 seeds   $2.50                      

Centranthus ruber 'Alba'

Centranthus ruber 'Alba' is the white-flowered form of
Centranthus ruber
. It's a versatile, easy-to-grow perennial with masses of pure white flowers that appear in late spring to early summer. Great for
cutting
.
White Jupiter's Beard looks terrific with bearded iris and other large perennials. The blue-green foliage makes a nice backdrop for shorter plants.

Also known as Centranthus ruber 'Snowcloud' or Centranthus ruber White. Deer resistant. Hardy in zones 4-9.

height 36"

width 30"

Sowing Centranthus ruber 'Alba' Seeds

Start seeds indoors 6-8 weeks before the last frost date. Or sow outdoors in late spring. Barely cover with soil. Full sun to part shade. Spacing 15".

Copyright (c) Diane's Flower Seeds. All rights reserved.