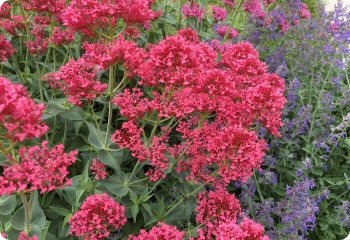 Centranthus ruber 'Coccineus'

(Red Jupiter's Beard)

100 seeds   $2.50

out of stock                      

Centranthus ruber 'Coccineus'

Centranthus ruber 'Coccineus' is a
first-year flowering perennial
. The large, bushy plants bloom in late spring to early summer, and they repeat bloom if they are cut back by one-third after the first flush of bloom is over. The clusters of reddish-pink flowers attract
hummingbirds
and
butterflies
.
Also known as Red Jupiter's Beard, Keys of Heaven, Red Valerian and Centranthus ruber var. coccineus. Tolerates drought and poor soil. Deer resistant. Hardy in zones 4-9.

height 36"

width 30"

Sowing Centranthus ruber 'Coccineus' Seeds

Start seeds indoors 6-8 weeks before the last frost date. Or sow outdoors in late spring. Barely cover with soil. Full sun to part shade. Spacing 15".

Copyright (c) Diane's Flower Seeds. All rights reserved.