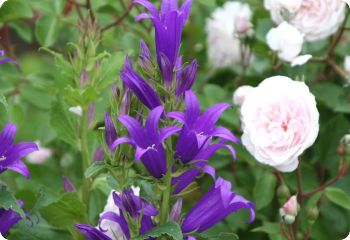 Campanula 'Brantwood'

(Greater Bellflower)

300 seeds   $3.50 

Campanula latifolia 'Brantwood'

Campanula latifolia 'Brantwood' blooms in June with large, violet-blue bells on tall stems. This bellflower is easy to grow, and it blooms the
first year
from seed. It's a long-lived, well-behaved perennial in my garden.
Also called Greater Bellflower. Deer resistant. Hardy in zones 3-9.

height 3-4'                   

Sowing Campanula latifolia Seeds:

Sow indoors 8 weeks before the last frost date. Sow on the surface. Full sun to part shade. Spacing 18".

Copyright (c) Diane's Flower Seeds. All rights reserved.