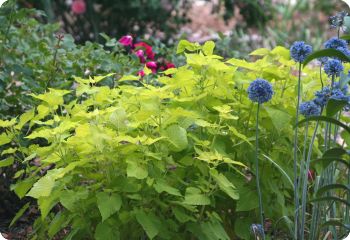 Agastache 'Golden Jubilee'

(Anise Hyssop)

125 seeds   $4.00    

Agastache foeniculum 'Golden Jubilee'

Agastache 'Golden Jubilee' is a unique, gold-leaved variety of
anise hyssop
. The tall stems are topped with lavender-blue flowers from mid summer to fall. 
This is the only seed-grown perennial that I know of with foliage of this color. It is useful for adding chartreuse foliage color to
container gardens
.
Agastache 'Golden Jubilee' was an All-America Selections winner in 2003. Deer resistant. Hardy perennial in zones 5-10. 

height 30"

Sowing Agastache 'Golden Jubilee' Seeds

Start seeds indoors 6-8 weeks before the last frost date. Barely cover with soil.

Full sun. Spacing 12".

Copyright (c) Diane's Flower Seeds. All rights reserved.