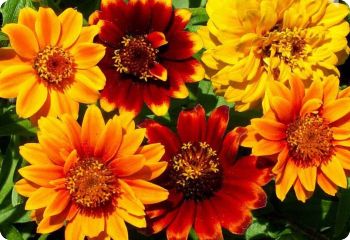 Zinnia 'Persian Carpet Mix'

(Zinnia haageana)

120 seeds             

$2.00        out of stock       

Zinnia haageana 'Persian Carpet'

Persian Carpet zinnias have small, bicolor flowers that bloom in a range of warm colors: gold, orange, cream-yellow and mahogany-red.

Zinnia 'Persian Carpet Mix' is a low-growing annual for the front of the border. It's also nice in pots. Easy to grow.

Zinnia haageana is commonly known as Mexican zinnia. It attracts butterflies and beneficial insects. Deer resistant.

height 15"                 

Sowing Zinnia haageana Seeds:

Sow outdoors after the last frost date, 1/8" deep. Or sow indoors 4-5 weeks early. Full sun. Spacing 12".

Copyright (c) Diane's Flower Seeds. All rights reserved.