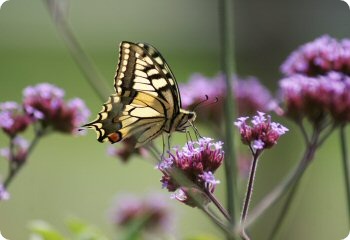 Tall Verbena

(Verbena bonariensis)

1 pkt = 500 seeds              

$2.50         

Nearly every garden design book I've read mentions Verbena bonariensis. This lovely perennial blooms the first year from seed with clusters of rosy-purple flowers that attract butterflies and hummingbirds. 

Verbena bonariensis is a nice companion plant for roses, ornamental grasses, and tall perennials like
trumpet lilies
.
Verbena bonariensis is hardy in zones 7-10, but it often overwinters in my  zone 5 garden. Grow it as a self-sowing annual in colder regions. It is very vigorous and may be considered invasive, especially in warmer zones. Also known as Purple Top Vervain.

height 3-4'