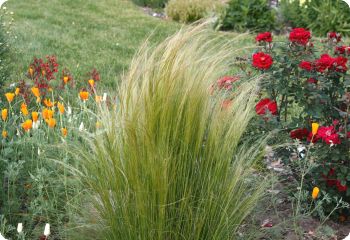 Stipa tenuissima

(Mexican Feather Grass)

200 seeds   $3.25       

Stipa tenuissima

Stipa tenuissima is one of the most delicate and beautiful of all ornamental grasses. The hair-like leaves wave gracefully in the wind, and the plants are nicely proportioned to fit into almost any garden. 

Stipa tenuissima grows quickly and blooms the
first year
from seed, so it can be grown as an annual. It tolerates
drought
and alkaline soil, and it does well in containers.
Also known as Nassella tenuissima. Common names include Mexican Feather Grass, Pony Tails, Angel Hair Grass, and Silky Thread Grass. Hardy perennial in zones 6-10. It overwinters in zone 5 if planted in a warm spot in full sun.

height 30"

Sowing Stipa tenuissima Seeds

Start seeds indoors in late winter. Barely cover with soil, then
refrigerate
for 3 weeks. Full sun. Spacing 18".
Copyright (c) Diane's Flower Seeds. All rights reserved.