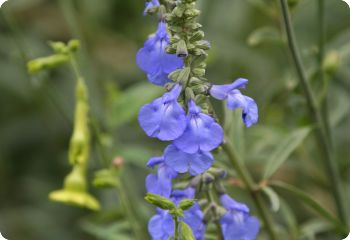 Salvia azurea grandiflora

(Azure Blue Sage)

100 seeds   $2.25 

out of stock     

Salvia azurea grandiflora

Salvia azurea is a native prairie wildflower. It is the most striking blue flower in the garden in early fall. It blooms the
first year
from seed, so it can be grown as an annual where it's not hardy. The azure-blue flowers attract
hummingbirds
and
butterflies
.
Salvia azurea tends to flop when it gets tall. To keep it compact, pinch it back to 24" in late June. Or prop it up with a fence or stakes, or let it lean against other tall plants.

Salvia azurea is a
drought-tolerant
perennial. Also known as Azure Blue Sage, Salvia pitcheri and Pitcher Sage. Deer resistant. Hardy in zones 5-9.
height 48"

Sowing Salvia azurea grandiflora Seeds

Start seeds indoors in late winter. Barely cover the seeds, then
refrigerate
for 3 weeks. Full sun. Well-drained soil. Spacing 18".
Copyright (c) Diane's Flower Seeds. All rights reserved.