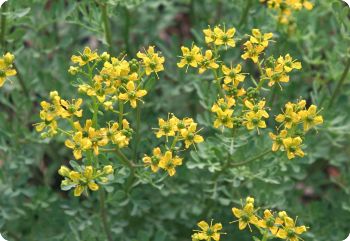 Ruta graveolens

(Rue)

140 seeds   $2.25                

Ruta graveolens

Ruta graveolens is an
heirloom herb
that has been grown in gardens since ancient times. This slightly toxic herb was once used as an insect repellant. The lacy, blue-green foliage and greenish-yellow flowers make it a lovely companion plant for almost anything. It can even be pruned for a formal look. 
Ruta graveolens is a
host plant
for the following butterflies: Black Swallowtail, Giant Swallowtail, Broad-banded Swallowtail, and King Swallowtail.
Wear gloves when handling rue. It can cause rashes on sensitive skin. Deer resistant.
Drought tolerant
. Hardy perennial in zones 5-10.
height 24"

Sowing Ruta graveolens Seeds

Start seeds indoors 6-8 weeks before the last frost date. Or sow outdoors in late spring. Barely cover with soil. Full sun to part shade. Spacing 15".

Copyright (c) Diane's Flower Seeds. All rights reserved.