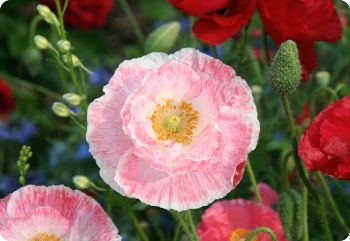 Shirley Poppy 'Diane's Mix'  

(Papaver rhoeas)

8,000 seeds              

$2.50 

Papaver rhoeas 'Diane's Mix' - Shirley Poppy

Papaver rhoeas is a June-blooming, annual poppy. This is my own special mix of varieties I've collected over many years. It includes single and double flowers in shades of pink, salmon, red, orange, white and mauve. Many of the blooms are bicolored or picoteed.

Shirley poppies are easy to grow and deer resistant.

height 30"

Sowing Papaver rhoeas Seeds:

Sow outdoors in early spring, or fall in mild winter areas. Sow on the surface. For good coverage, mix the seeds with sand before sowing. Full sun. 

Copyright (c) Diane's Flower Seeds. All rights reserved.