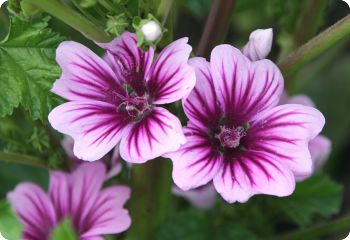 Malva 'Zebrina'

(French Hollyhock)

35 seeds   $2.25

out of stock

Malva sylvestris 'Zebrina'

Malva 'Zebrina' is an
heirloom flower
that was popular in Victorian gardens. It blooms from June to September with tall stems of 2" pale pink flowers with dark purple stripes. It gives the garden an old-fashioned,
cottage garden
look. It's also nice in wildflower gardens.
Also known as French Hollyhock, Hollyhock Mallow, Striped Mallow, and Zebrina Hollyhock. Hardy in zones 5-9.

height 36"

width 18"

Sowing Malva sylvestris 'Zebrina' Seeds

Start seeds indoors 6-8 weeks before the last frost date. Barely cover with soil. Or sow outdoors in spring. Full sun. Spacing 18".

Copyright (c) Diane's Flower Seeds. All rights reserved.