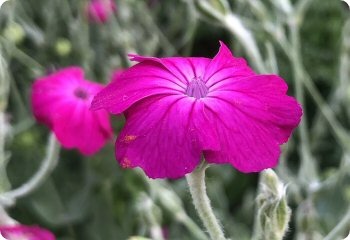 Lychnis coronaria

(Rose Campion)

300 seeds   $2.25  

out of stock   

Lychnis coronaria

Lychnis coronaria is a short-lived, self-sowing perennial with vivid, purplish-red flowers and fuzzy, silvery-green leaves. Both the flowers and foliage are very striking. The foliage is great for brightening up a partly
shaded
garden.
Lychnis coronaria starts blooming in June and continues for most of the summer. It reseeds where its happy. Deer resistant. Hardy in zones 3-9.

height 30"               

Sowing Lychnis coronaria Seeds

Start seeds indoors
8 weeks before the last frost date. Barely cover with soil. Full sun to part shade. Spacing 15".
Copyright (c) Diane's Flower Seeds. All rights reserved.