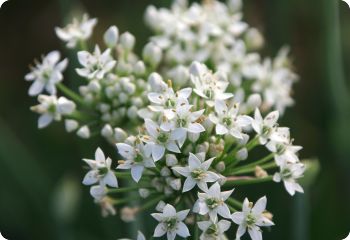 Garlic Chives

(Allium tuberosum)

110 seeds   $2.00      

Garlic Chives

Garlic Chives are tall and upright with wide, flat leaves. They have a strong garlic flavor that is useful in the kitchen, and they make great companion plants in organic gardens. They repel aphids, and the flowers attract bees,
butterflies
and
beneficial insects
.
Garlic Chives produce clusters of starry white flowers in late August. Years ago, I read that the famous English plantsman, Christopher Lloyd, grew them in his garden to come up through The Fairy rose. So I planted garlic chives around my Portmeiron rose. They make a great pair!

Garlic Chives reseed excessively unless deadheaded. Also known as Chinese Chives. Deer resistant. Hardy in zones 3-9. Also see
Common Chives
.
height 24"

Sowing Garlic Chives Seeds

Sow outdoors in the spring. Or start indoors 6-8 weeks before the last frost date. Barely cover with soil. Full sun. Spacing 6".
Copyright (c) Diane's Flower Seeds. All rights reserved.