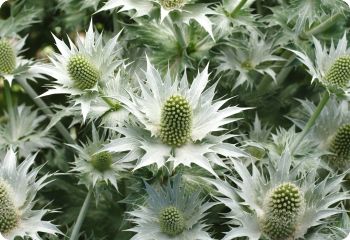 Eryngium giganteum

(Miss Willmott's Ghost)

50 seeds             

$3.00        out of stock            

Eryngium giganteum - Miss Willmott's Ghost

Eryngium giganteum is a striking plant with greenish-white cones of flowers surrounded by prickly, silver bracts.

Miss Willmott's Ghost is named after the nineteenth century gardener, Miss Ellen Willmott, who liked to secretly scatter these seeds in other people's gardens.

Eryngium attracts bees, butterflies and beneficial insects. Biennial or short-lived perennial. Also known as Sea Holly. Deer resistant. Hardy in zones 5-8.

height 36"

Sowing Eryngium giganteum Seeds:

Sow outdoors in late summer to fall. Barely cover the seeds. Needs fluctuating temperatures to germinate. Cannot be started indoors. Very slow to germinate. Full sun. Well-drained soil.

Copyright (c) Diane's Flower Seeds. All rights reserved.