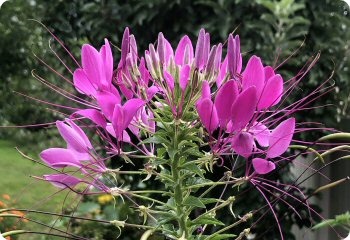 Cleome spinosa

'Violet Queen'

1 pkt = 150 seeds                 

$2.25         

Photo by Valerie Bennett

This popular cleome blooms in a gorgeous, violet-purple color that goes with nearly everything in the garden.

Cleome 'Violet Queen' looks great with the pink and white cleomes. It's a good companion plant for
nicotiana
,
lavatera
and
cosmos
. Also called Spider Flower or Cleome hasslerana.
height 4'

For sowing instructions and more information, see
Cleome Seeds
.