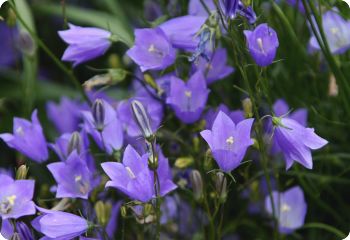 Campanula rotundifolia

(Bluebells of Scotland)

800 seeds   $2.25 

Campanula rotundifolia

Campanula rotundifolia is a beautiful wildflower with violet-blue, bell-shaped flowers from June to September. The short, spreading plants looks lovely in the border,
rock garden
or wildflower garden. I plant them around the base of
roses
.
Campanula rotundifolia is
drought tolerant
, and it prefers well-drained soil. It self-sows in moderation.
Also known as Bluebells of Scotland, Scottish Harebell and Fairy Thimbles. Deer resistant. Hardy in zones 3-9.

height 12"                  

Sowing Campanula rotundifolia Seeds

Sow seeds indoors in late winter. Sow on the surface, then
refrigerate
5 weeks. Full sun to part shade. Spacing 12".
Copyright (c) Diane's Flower Seeds. All rights reserved.