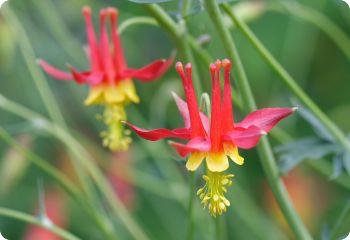 Aquilegia formosa

(Crimson Columbine)

50 seeds   $2.75             

Aquilegia formosa

Aquilegia formosa is a lovely species, native to Colorado. The glowing red flowers with yellow centers bloom for several weeks in summer. The long bloom season and bright red color make it a good
hummingbird flower
.
Aquilegia formosa is tall, yet informal, with a graceful, spreading habit. It's the perfect columbine for a woodland garden. The flowers are good for
cutting
.
Also known as Crimson Columbine, Western Columbine, Red Spur Columbine, and Scarlet Columbine. Hardy in zones 4-9.
Drought tolerant
. Deer resistant.
height 36"

Sowing Aquilegia formosa Seeds

Start seeds indoors in late winter. Barely cover with soil, then
refrigerate
for 3 weeks. Full sun to part shade. Spacing 12".
Copyright (c) Diane's Flower Seeds. All rights reserved.