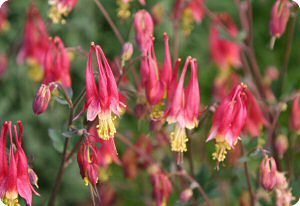 Aquilegia 'Little Lanterns'

(Eastern Columbine)

40 seeds   $3.25               

Aquilegia canadensis 'Little Lanterns'

Aquilegia 'Little Lanterns' is a dwarf selection of the common species, Aquilegia canadensis, also known as Eastern columbine. The glowing red and yellow bicolor flowers appear for many weeks in May and June. 

Aquilegia canadensis 'Little Lanterns' does well in sun or
shade
. Try this adorable little plant in the
rock garden
or at the edge of the border.
Deer resistant. Hardy in zones 4-9.

height 12"

Sowing Aquilegia 'Little Lanterns' Seeds

Start seeds indoors in late winter. Barely cover with soil, then
refrigerate
for 3 weeks. Full sun to part shade. Spacing 12".
Copyright (c) Diane's Flower Seeds. All rights reserved.