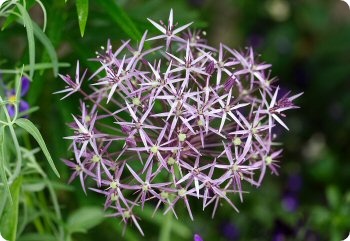 Allium christophii

(Star of Persia)

50 seeds   $2.50       

Allium christophii

Allium christophii is one of my favorite alliums. The large, round balls of star-shaped flowers bloom in early summer in a light shade of lavender-mauve. They look good with
columbine
, which blooms at the same time.
Also known as Star of Persia and Allium albopilosum.
Deer resistant
. Hardy perennial in zones 4-9.
height 18"

Sowing Allium christophii Seeds

Sow seeds outdoors in the fall. Barely cover with soil. Or place in a damp paper

napkin inside a ziploc bag, and
refrigerate
for 8 weeks before sowing indoors.
Full sun.

Copyright (c) Diane's Flower Seeds. All rights reserved.