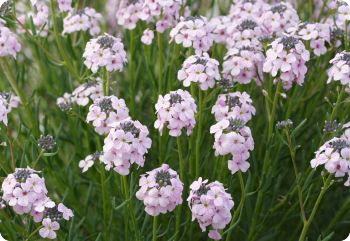 Aethionema schistosum

(Turkish Stonecress)

25 seeds              

$3.75

Aethionema schistosum - Fragrant Persian Stonecress

One of my favorite perennials! Fragrant Persian Stonecress forms a symetrical mound of blue-green leaves covered with fragrant, pale pink flowers in spring. The color and fragrance remind me of cotton candy.

Aethionema schistosum is a wonderful rock garden plant. It tolerates drought and poor soil. It needs well-drained soil to overwinter. Also known as Turkish Stonecress. Hardy in zones 4-8.

height 10", width 15"

Sowing Aethionema schistosum Seeds:

Sow indoors in late winter. Barely cover the seeds, then refrigerate for 3 weeks. Full sun. Well-drained soil. Spacing 15".

Copyright (c) Diane's Flower Seeds. All rights reserved.