Aubrieta 'Whitewell Gem'
has spreading mounds of gray-green leaves covered with deep purple flowers. It is often seen trailing over rock walls.
Also known as Purple Rock Cress, Aubrieta deltoidea, and Aubrieta hybrida 'Whitewell Gem'.

Aubrieta (Rock Cress) Seeds

Aubrieta (Rock Cress) is a spring-blooming perennial with spreading mats of foliage covered in small flowers. Height 6". Spacing 10". Hardy in zones 4-9.

Sowing Aubrieta Seeds

Start aubrieta seeds
indoors
6-8 weeks before the last frost date. Or sow outdoors after the last frost. Barely cover seeds with soil. Full sun to part shade.
Rock Cress 'Royal Mix' likes well-drained soil. It's perfect for the edge of a path, the front of the border, or spilling over boulders in the
rock garden
.
Trim the plants back lightly after blooming to keep them compact.

Aubrieta deltoidea
is a lovely sight to behold in the spring garden. The spreading mounds of evergreen leaves are covered with violet-purple flowers.
The vivid color of rock cress contrasts beautifully with bulbs, flowering shrubs, and early-blooming perennials. Easy to grow from seed.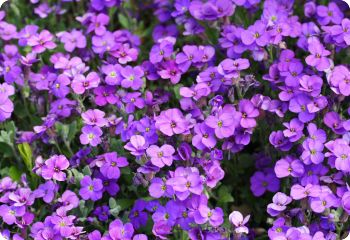 Aubrieta x cultorum 'Whitewell Gem'

(Rock Cress)

220 seeds   $2.50

Aubrieta x cultorum 'Royal Mix'

(Rock Cress)

220 seeds   $2.50                            

Aubrieta deltoidea

(Rock Cress)

220 seeds   $2.00