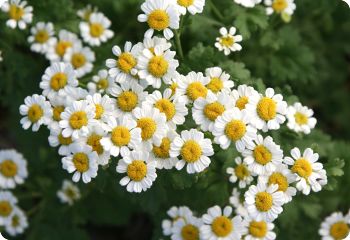 Feverfew

(Tanacetum parthenium)

400 seeds   $2.25       

Tanacetum parthenium

Feverfew has small, daisy-like flowers on tall stems above strongly scented foliage. It makes a good filler in the garden, and it's wonderful for
cutting
.
Feverfew is a must-have plant for the
cottage garden
or old-fashioned herb garden. The flowers are dried by hanging them upside down. The leaves are used in herbal medicine for the treatment of migraine headaches.
Feverfew self sows profusely, unless deadheaded. Cut the plants back after blooming to encourage repeat bloom.

Also known as Chrysanthemum parthenium or Matricaria parthenium. Deer resistant. Hardy perennial in zones 5-9. Grow as an annual elsewhere.

height 30"

Sowing Feverfew Seeds

Start seeds indoors 6-8 weeks before the last frost date. Or sow outdoors in late spring. Sow on the surface. Full sun to part shade. Spacing 12".

Click here for more pictures of
Feverfew
.
Copyright (c) Diane's Flower Seeds. All rights reserved.