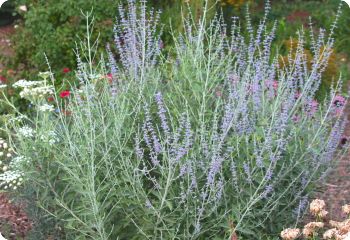 Perovskia atriplicifolia

(Russian Sage)

30 seeds   $3.25                  

Perovskia atriplicifolia

Perovskia atriplicifolia is a large, bushy
perennial
with soft spikes of lavender-blue flowers and aromatic gray-green floiage. It blooms for a long time in mid summer to fall.
In Perennial All-Stars, Jeff Cox says, "Russian sage is one of the most useful and beautiful of the fillers for any perennial garden."

Perovskia attracts
hummingbirds
. I was surprised to see a hummingbird return to it several times one day, especially since there were other plants nearby that should have been more tempting.
Perovskia atriplicifolia should be cut back to 10" in the spring to keep the plants bushy. Deer resistant. Hardy in zones 4-9.

height 4'                       

Sowing Perovskia atriplicifolia Seeds

Start seeds indoors in late winter. Barely cover the seeds, then
refrigerate
for
3 weeks. Full sun. Spacing 24".

Copyright (c) Diane's Flower Seeds. All rights reserved.