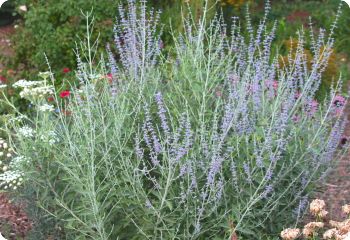 Russian Sage

(Perovskia atriplicifolia)

1 pkt = 30 seeds              

$3.00               

In Perennial All-Stars, Jeff Cox says, "Russian sage is one of the most useful and beautiful of the fillers for any perennial garden." It has aromatic, gray-green foliage with soft spikes of lavender-blue flowers from mid summer to fall.

Use Russian sage where you need something large. It looks terrific with ornamental grasses,
echinacea
,
rudbeckia
and
daylilies
. Cut the plants back to 10" in the spring to keep them bushy. Hardy in zones 4-9.
height 4'                       

Sowing Perovskia Seeds:

Sow indoors in late winter. Barely cover the seeds, then refrigerate for 3 weeks. Full sun.