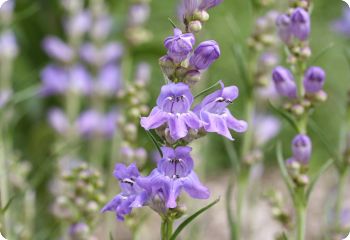 Penstemon paysoniorum

(Payson's Beardtongue)

50 seeds   $2.75                  

Penstemon paysoniorum

This rare penstemon is native to Wyoming. The lavender-blue flowers bloom in early summer. It's a great plant for the
rock garden
.
Penstemon paysoniorum blooms prolifically on stems that are wind tolerant. After a wind storm this summer, many stems were broken off a nearby
Penstemon strictus
, but this plant was fine.
Drought tolerant
.
Also known as Payson's Beardtongue. Hardy perennial in zones 4-9.

height 12"                        

Sowing Penstemon paysoniorum Seeds

Start seeds indoors in late winter. Barely cover the seeds, then
refrigerate
for
12 weeks. Full sun. Spacing 12".

Copyright (c) Diane's Flower Seeds. All rights reserved.