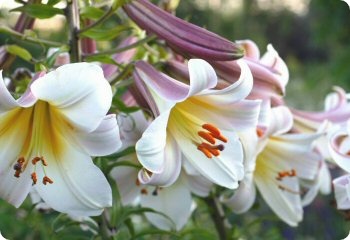 Chinese Trumpet Lily Mix (Lilium)

1 pkt = 50 seeds              

$3.00 

Chinese trumpet lilies are among the most magnificent lilies in the garden. They bloom in mid summer in shades of yellow, gold, apricot, pink, mauve and white. They are wonderfully fragrant.

You never know what you'll get with seed-grown lilies, so it's always a surprise.  I hand-cross the blooms for best results. The parents of this mix include famous named varieties like
Black Dragon
and
Golden Splendor
, along with my own unique seedlings in shades of
apricot
,
white
,
yellow
,
pale mauve
and
others
. You should get some decent seedlings from this mix.
Also known as Aurelian Hybrid Lily. Hardy in zones 4-9.

height 4-6'

For sowing instructions and more information, see
Lily Seeds
.