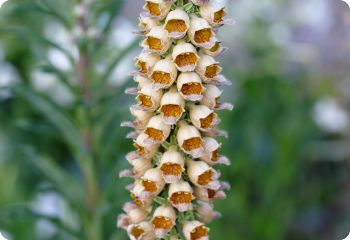 Digitalis 'Gelber Herold'

(Rusty Foxglove)

150 seeds   $3.00           

Digitalis ferruginea 'Gelber Herold'

I'm just crazy about digitalis species. This rare foxglove is one of my favorites. Digitalis 'Gelber Herold' blooms in mid summer with towering spikes of soft, tan-yellow flowers with rusty veining. The flowers are larger than the species.

Digitalis ferruginea 'Gelber Herold' self sows freely in my zone 5 garden. It's a biennial or short-lived perennial.

height 4'

Sowing Digitalis ferruginea Seeds

Start seeds indoors
8 weeks before the last frost date. Sow on the surface. Full sun to part shade. Spacing 12".
Copyright (c) Diane's Flower Seeds. All rights reserved.