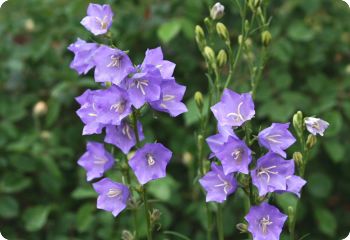 Campanula 'Telham Beauty'

(Blue Peach-leaved Bellflower)

600 seeds             

$3.00

Campanula persicifolia 'Telham Beauty'

Campanula 'Telham Beauty' blooms in early summer with beautiful, china-blue flowers. This slowly-spreading perennial can be divided every 2-3 years, if desired. It also self sows.

Also known as Peach-leaf bellflower. Deer resistant. Hardy in zones 3-8.

height 30"

Sowing Campanula persicifolia 'Telham Beauty' Seeds:

Sow indoors 8 weeks before the last frost date. Sow on the surface. Full sun to part shade. Spacing 15".

Copyright (c) Diane's Flower Seeds. All rights reserved.